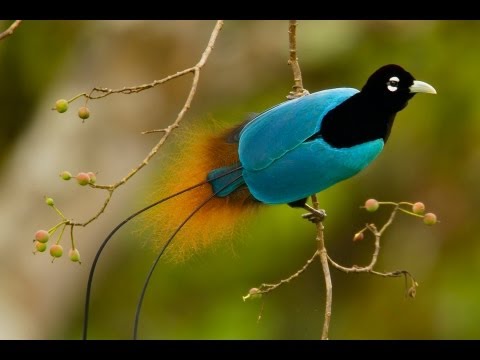 The Birds-of-Paradise Project reveals the astounding beauty of 39 of the most exquisitely specialized animals on earth. After 8 years and 18 expeditions to New Guinea, Australia, and nearby islands, Cornell Lab scientist Ed Scholes and National Geographic photojournalist Tim Laman succeeded in capturing images of all 39 species in the bird-of-paradise family for the first time ever. This video gives a sense of their monumental undertaking and the spectacular footage that resulted. Filmed by Tim Laman, Ed Scholes, and Eric Liner.
Visit the Birds-of-Paradise Project website takes you inside the world of these spectacular birds to show you how they create their complex displays. Using 35 high-definition videos, plus animations, slideshows, and interactive features, we bring you vivid, up-close examples accompanied by commentary from project co-creators Ed Scholes and Tim Laman. You'll be able to see and understand what's going on at a level of detail that's unprecedented for any group of animals—it's almost like going into the forests of New Guinea yourself.
The Cornell Lab and National Geographic have copublished the gorgeous coffee table book Birds of Paradise: Revealing the World's Most Extraordinary Birds, presenting all 39 species of birds-of-paradise with spectacular photographs. The book reveals details of the birds' behavior, natural environment, and behavior, along with history of their discovery from Magellan's voyage to Alfred Russel Wallace to the modern-day adventures of Tim Laman and Ed Scholes. Find it in bookstores or order it online from the Wild Birds Unlimited store at Sapsucker Woods.
The Cornell Lab's BirdSleuth K-12 project has adapted the materials from the Birds-of-Paradise Project for use in the classroom. The lesson plans have been designed to meet Framework for K-12 Science Education expectations. Download the free lessons here. National Geographic also feature resources for students and educators on the Birds-of-Paradise.
Explore Further: Field Videos Archive, National Geographic Article, Living Bird Article.
The following two tabs change content below.
Explorer and photo-journalist, passionate about nature, culture and travel. Combining science and conservation with investigative journalism to provide educational resources and a platform for science exploration.
Latest posts by Inga Yandell (see all)